DATE:

AUTHOR:

JourneyApps Product Team
New Developer Documentation
DATE:
AUTHOR: JourneyApps Product Team
We have launched a brand new developer documentation site! The site is available at docs.journeyapps.com and has replaced our previous developer documentation.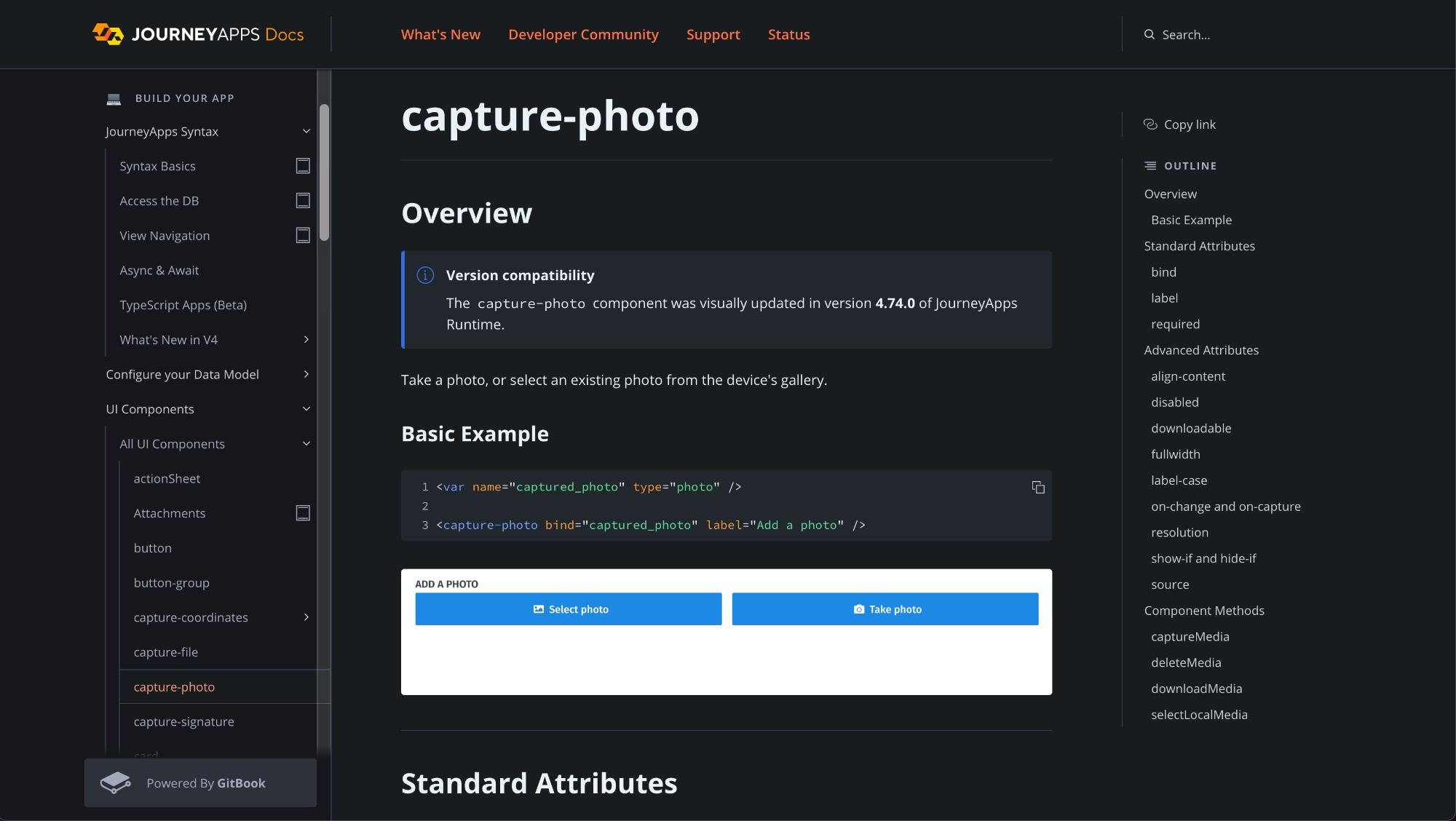 This new site addresses some common feedback items we've received: that docs content is sometimes difficult to locate or is out of date; that links are often broken; and that there are inconsistencies between similar documentation pages. Together with addressing these frustrations, this site also includes several new features and improvements.
Notable updates
The docs have a new look and should feel faster to use throughout.

Navigation is improved with a single sidebar navigation menu which is more compact.

We have changed the structure of the docs site to group docs using a "jobs to be done" framework.

Some docs can be accessed from multiple places in the sidebar, making topics more discoverable.

We have removed the UI component syntax trees which were often unreliable, and have reorganized UI component docs to show "standard" and "advanced" attributes, as well as made these more consistent in their structure.

We have removed "live demos" for UI components. Even though these were sometimes useful for new developers, they could break unexpectedly.

There are many internal improvements that allow us to maintain the content of the site more easily, ensuring that the site remains up to date.
Top tip:
If you like using keyboard shortcuts, you can use CMD + K (for macOS) or Control + K (for Windows) to open the universal search. You can then use your keyboard to move up and down between results.
Please note:
Links to the previous docs site are currently being converted to their corresponding pages in this new docs site. Please reach out to us if you continue to come across broken links to our developer docs after the next few days.
We'd love to hear your feedback - simply drop us a mail here.